---
As a Jets fan, most of my football life has been miserable. Chad Pennington injuries, the Brett Favre experiment, Geno getting punched, Mark Sanchez and the butt fumble, and Fitzmagic's Week 17 loss to the Bills. All of these quarterbacks have haunted my nightmares for years. Then all of a sudden, a shining, block headed, sword wielding knight emerged to save the franchise.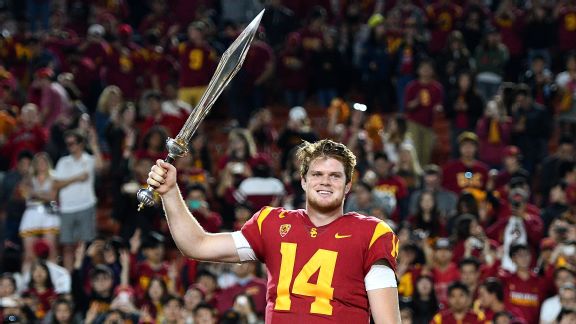 Through two weeks Sam has been pretty good for his first two starts in the NFL. After his first pass pick six against the Lions, he played a near perfect game. Against the Dolphins he threw for over 300 yards and had a couple bad picks, but to be expected from a rookie starter. After only two games I have no doubts about Sam's talent. He has proven to be shifty in the pocket and has made about every kind of throw you can make. Remember this bomb?
Sam Darnold's first career TD pass is a DIME! 🔥#NYJvsDET #Jets

📺: ESPN pic.twitter.com/ZUDNTVfMe6

— NFL (@NFL) September 11, 2018
But physical ability has never been the real problem with Jets quarterbacks. As I alluded to earlier, Jets quarterbacks all have a "moment." A moment where you can tell they will never be the same again. A moment I've seen too many times in my young life. A moment I hope never comes for Sam Darnold.
For Chad Pennington and Brett Favre it was simply injuries.
What a sad picture.
For others, it was much worse.
The Butt Fumble.
The punch.
Huge news out of #Jets camp: Geno Smith out 6-10 weeks after being punched in the face in the locker room. Broken jaw, will require surgery.

— Rachel Nichols (@Rachel__Nichols) August 11, 2015
And most recently, Ryan Fitzpatrick throwing three fourth quarter interceptions in a win-and-you're-in game against the Bills in Week 17.
SI– It was a win-and-you're-in scenario for these Jets (10-6), and they lost. So they're out. They're done. Just like that. Just when it seemed like they were poised to make some real trouble for the higher seeds in the AFC playoff field. New York's defeat shifted the playoff-clinching celebration down I-90 to Cleveland, where the Steelers (10–6) drubbed the Browns 28–12, to atone for last week's mistakes at Baltimore and wrap up the AFC's No. 6 seed.
"It's the hardest, most difficult end to a season I ever had, in terms of how I feel right now and how painful of a loss that was," said Fitzpatrick, whose three fourth-quarter interceptions will forever remain the easy summation of this crushing Jets loss. "There's not a whole lot of talking (in the locker room) right now. It's hard to come up with words. It's hard to even think about right now. It hurts. It hurts me a lot. After this interview I have to walk back in there with the feeling of not playing your best and not making the plays we needed to win."
My hope is that Sam Darnold never has that moment. I want him to be the Jets quarterback for the next 15 years. However, my biggest fear for that 15 year plan lies in his third career start. I know the Jets aren't supposed to be a great team. I know that we just want the young guys to play well and get another top draft pick in 2019. But Sam Darnold can't be the quarterback that breaks the Browns losing streak. If Sam plays poorly tonight and the Browns snap their nineteen game losing streak against the Jets, I'm worried that could be Sam's "moment" already. I know it's crazy to say that about a 21 year old kid with all the talent in the world, but I've been hurt too many times before. I'm not even saying he would have a bad career, he would just never be the guy the Jets need.
If Sammy and the Jets win tonight I think he will cruise through the rest of the season and maybe even take home the Offensive Rookie of the Year award. He's that good. But first he needs to do what the Browns last nineteen opponents have done, and that is beat the Cleveland Browns. I mean look at this shit man.
Bud Light is setting up GoPro's in local bars anticipating a win over the Jets tonight. Remember @budlight and the @Browns have put fridges stocked with free bud light all around Cleveland that will unlock when/if the #Browns⁠ ⁠ win. pic.twitter.com/EWTGuzWCWO

— uSTADIUM (@uSTADIUM) September 20, 2018
If the Browns win tonight, Cleveland will burn to the ground in a sea of free Bud Light and horse shit. If Sam Darnold and the Jets are responsible for that, they will become the new laughing stock of the NFL. After Hard Knocks, the Browns are now beloved. The world wants to be able to cheer for the Browns. The Jets have always been a mockery, but tonight could put them below the Browns as the most laughable franchise in the NFL.
All that being said, I have the Jets ML +140. I can't wait for Sam Darnold to crush the team that picked Baker Mayfield over him. Tonight will not be his moment. More than anything, I like the Jets because of this stat right here: the Browns have lost NINETEEN FUCKING GAMES IN A ROW. Betting against them seems pretty profitable.
Jet The Fuck Up.
---
You may also like