---
If you haven't heard, being a Jets, Mets, and Knicks fan is miserable. Those teams don't just lose, they get humiliated. There are countless moments in my life that have made me question why I even watch sports. However, there is only one name that you are not allowed to speak in my house.
This guy took away everything from me. What could've been one of the best nights of my young life, became one of the worst. That #6 Jets jersey and that image of He Who Must Not Be Named just standing there with his hands on his hips is something that will haunt me forever.
Now most people, especially non-Jets fans probably think they know who I'm talking about.
But, no.
It's not this guy.
I have no hate for the Sanchize.
It's this guy.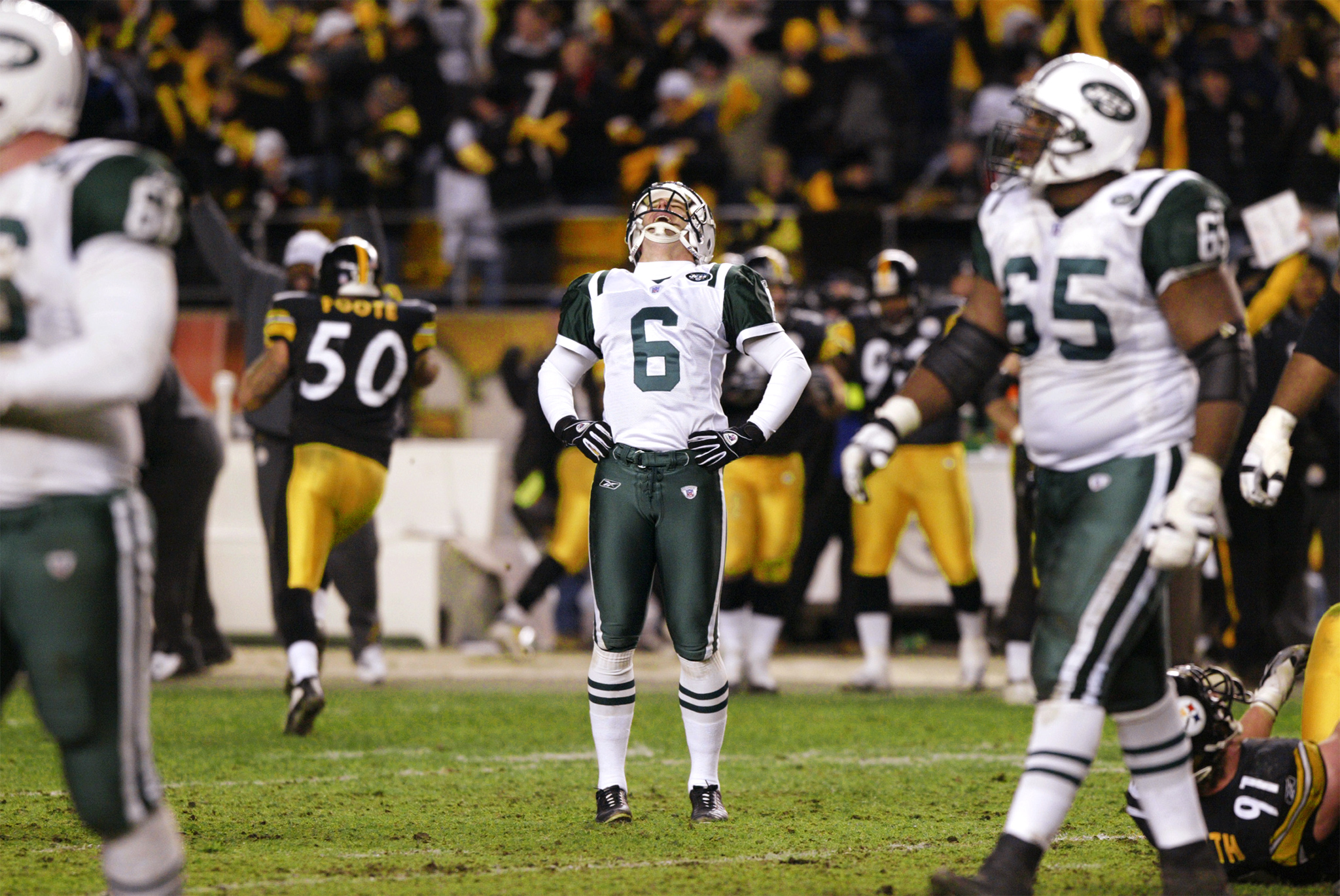 Now anybody who's not a Jets fans might not even know who this is. But this is my single most hated athlete of all time. What this man did to me is not something that can ever be forgiven. If you're waiting for me to say His name, I'm not going to. Google it. But I will tell you the situation.
The year was 2004. I was just a kid, not yet aware of the misery that was to come over the next 15 years. But that is what made this such a defining moment in my life. This man took away my innocence. He made me realize that sports are not fun, they are pain and misery. (Sorry, I'll get back on track. Sometimes I get lost in the hate). Like I said, the year was 2004. The Jets were my life at this age. The Knicks stunk and I wasn't really a baseball fan yet. But my family had Jets season tickets and we went to almost every home game. My favorite player in the world and still one of my favorite athletes of all time was Chad Pennington (that should tell you how AWFUL my life has been). The Jets actually had a pretty decent team in those years though and managed to make the playoffs in 2004. They won the Wild Card round against the Chargers and were heading to Pittsburgh to face the 15-1 Steelers in the divisional round. The Jets realistically had no business winning that game, but they came out and grinded. The defense shut down rookie quarterback Ben Roethlisberger and the offense did just enough to tie the game at 17 with a couple minutes to go.
My hero, Chad Pennington, marched the team down the field and set themselves up for a 47 yard field goal with two minutes to go. Then, He Who Must Not Be Named stepped up to kick the field goal, and you guess what happened next, no good. This set the Steelers up for a game winning drive of their own, until the Jets intercepted a Big Ben pass and returned it deep into Steelers territory. This is every kicker's dream. They miss a game-winner in the playoffs and are miraculously handed a second chance on a silver platter. HWMNBN lined up for a 43 yarder with the final seconds ticking off the clock. He had a chance to be the hero and erase everything that happened prior, and he missed again. Two game winning field goals missed in the final two minutes. The Steelers went on to win the game in overtime and move on to the AFC title game. And to somehow make things even worse the Steelers were trounced by the Patriots in that game and the Pats went on to win the Super Bowl that year.
That game showed me how cruel sports can really be. It was honestly the original inspiration for this whole series. I still remember going downstairs for breakfast the next day. I sat down at the table, a changed child, and said to my dad, "*insert player name here* stinks, right?" What a foolish thing to say. Of course HWMNBN stinks, you dumb dumb child. My dad responded in the simplest way possible, "we don't say that name in this house." And I can tell you the truth that his name was actually never spoken again by anyone in my family. Just googling his name for this article was hard for me to do.
He Who Must Not Be Named will always be the first person that comes to mind when I think of my most hated athletes. Not a rival, not a universally hated guy, but I widely forgotten name in football lore. Even most NFL fans couldn't tell you who that guy was, but he shaped me into the fan I am today. The foundation of hate in my brain is dawned in a #6 Jets jersey, with both hands on its hips.
This quote from Hall of Famer, and all-time Jets great Curtis Martin, says it all,
"This is about as frustrated as I've ever been in my career," said Curtis Martin, vibrating with ire. "Right now, I feel there's no end to my anger . . . I expected us to go all the way."
There is never a way to end the anger Curtis, for any of us.
---
You may also like