---
NFL- Sam Darnold's contract situation officially caused the rookie to miss practice with the New York Jets on Friday. Coach Todd Bowles clearly wants his top draft in the building but shrugged off the quarterback's absence.
"Any time you're not here, you lose something," Bowles said. "It's been a day, obviously when he comes in, we'll get him caught up. But right now, I've got 79 other guys to worry about."
Unsigned rookie Sam Darnold is officially late for camp. Meetings tonight, practice at 1:50 tomorrow. Puzzling. QBs drafted ahead of him (Mayfield) and behind him (Allen) both got offset language in contracts. Deal should be done by now. #jets

— Rich Cimini (@RichCimini) July 27, 2018
Well, well, well. Football fans around the country are juiced up as their teams report to training camp. I personally can't fucking wait for football season. BUT, of course the Jets can't even give us one day of excitement. The Jets #3 overall pick did not make it to the first day of training camp. There is an ongoing contract dispute over the offset language in Sam's contract. I'm not smart enough to understand offset language, but it basically means when Sam gets to the fourth year of his contract if the Jets don't want him anymore he'll still get the money from that contract plus the money from his new team. Baker Mayfield and Josh Allen both got that in their contracts, so why can't the Jets just give it to Sam? Well, because they're the Jets.
If you don't trust your #3 overall pick to make it through four years then the issue is with your drafting, not him. Not showing that faith in your hopefully franchise quarterback is just going to hurt his confidence. A rookie quarterback needs every minute of practice he can get and missing these early ones puts him way behind the learning curve. Hopefully, the Jets get their heads out of their asses and get Sam out on the field. For now, Teddy Bridgewater is getting a lot more reps and apparently he's looked really good.
No Sam Darnold means more reps for Teddy Bridgewater https://t.co/UutnA3vqbR pic.twitter.com/RSIFq5i2m7

— New York Post (@nypost) July 28, 2018
I'm actually on board with Teddy starting the whole first year and letting Sam learn behind him and Josh McCown. But he can't learn if he doesn't practice.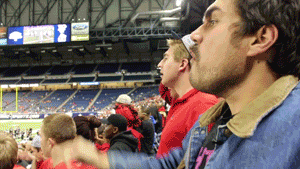 But I refuse to let the incompetent Jets front office ruin my excitement for football season. We're so close guys. So close.
I found this really shitty Jets Anthem rap on Youtube, but for some reason it gets me really gassed up. I'm making it my 2018 Jets Anthem.
Cue it.
---
You may also like