---
Monday night was one of the most pivotal nights in political history. President Trump and North Korean leader Kim Jong Un met in Singapore to discuss denuclearizing the Korean peninsula and taking steps towards peace between the two nations. This was the first time the leader of North Korea has ever met with a US President, making this an event that will be written about in history textbooks for decades to come. Naturally, Americans and people across the world tuned into news networks to watch the events unfold, and this is what they got:
Dennis Rodman is on CNN right now wearing a MAGA hat and crypto T-shirt 😂 pic.twitter.com/IsmpedqmGL

— Harlan Z. Hill (@Harlan) June 12, 2018
Jesus Christ. 2018 is truly something else. One of the most monumental nights in geopolitical history and a retired NBA player in a MAGA hat and a weed based cryptocurrency t shirt is the leading expert.
This is my list of top 5 things someone a decade ago would not be able to comprehend if they saw this story:
5. Cryptocurrency– Dennis Rodman is the proud spokesperson of Potcoin, a cryptocurrency designed to become the exclusive currency of legal marijuana sales. This is such a preposterous concept. Now a days anybody can just put the suffix "coin" at the end of a word and it becomes money. Even for me that's difficult to comprehend so trying to explain the crypto craze of the past year to someone in 2008 would be nearly impossible.
4. Legal weed– in order for potcoin to exist there must be, well… pot. If you told someone a decade ago that weed would be legal in the United States and it would be openly advertised on CNN they would call you a dirty hippy.
3. America is meeting with North Korea– A decade ago, Kim Jong Il was still in charge and he was somehow even more batshit crazy than his son. Kim Jong Il never pooped and shot a 34 on an 18 hole golf course (could Kim Jong Il win the US Open with unlimited mulligans?). So to think about us meeting with the leader of that country is pretty wild.
2. Dennis Rodman is basically the US ambassador to North Korea– In 2008 nobody from America had ever even met with the North Korean leader. Then in 2013 a small group of reporters and Dennis Rodman were invited to meet with Kim Jong Un. As you probably know, Kim was a huge fan of the 90's Bulls and since MJ is still kinda busy these days, Dennis Rodman decided to make the trip. Since then, Kim and Rodman have been absolute pals. Like fake Kim Jong Un and James Franco in "The Interview". Kim and Dennis Rodman just shoot hoops and listen to Firework by Katy Perry as they drive around in a tank. Imagine in a decade from now, Draymond Green was just over in Russia mucking it up with Putin. Bananaland.
1. Donald Trump- Despite the insanity of everything above, the craziest part of all is that the president doing all of this is the guy from the Apprentice. From "you're fired" to "don't fire… those nukes please Kim" (nailed it).
Who would've thought that "the guy from those Bulls teams… no not MJ… not Pippen… the other guy," the guy with the hair from the Apprentice, and a North Korean dictator would be the key to world peace.
Twilight Zone. Shout out Potcoin though pic.twitter.com/yGl5WOWAON

— Big Cat (@BarstoolBigCat) June 12, 2018
S/O Potcoin.
However, maybe the best clip of the whole night was this one:
Trump to photographers: Are you taking good pictures so we look 'nice and handsome and thin?'

Kim Jong-un: … pic.twitter.com/9SupjgBxie

— NowThis (@nowthisnews) June 12, 2018
Kim Jong Un might be the most relatable guy on the planet. You've spent the last few years eating all of the cheese in your entire country while your people starve and before you know it it's time for a big night out on the town. Your buddy from out of town who always gives you shit is there so you wanna look good. You put on an all black suit hoping it slims you down a little bit. Then your jackass friend, like always, demands that you guys get a "squad pic" at dinner. Then you realize your suit isn't slimming shit because your cheeks are puffed out like Will Smith in Hitch when he eats that shellfish. You want to say that you don't want a picture but by then it's too late. Your dickhead buddy even makes a below the belt comment "make sure we look nice and handsome and THIN hahahaha." Before you can do a thing, you turn to the camera as you see the flash going off and…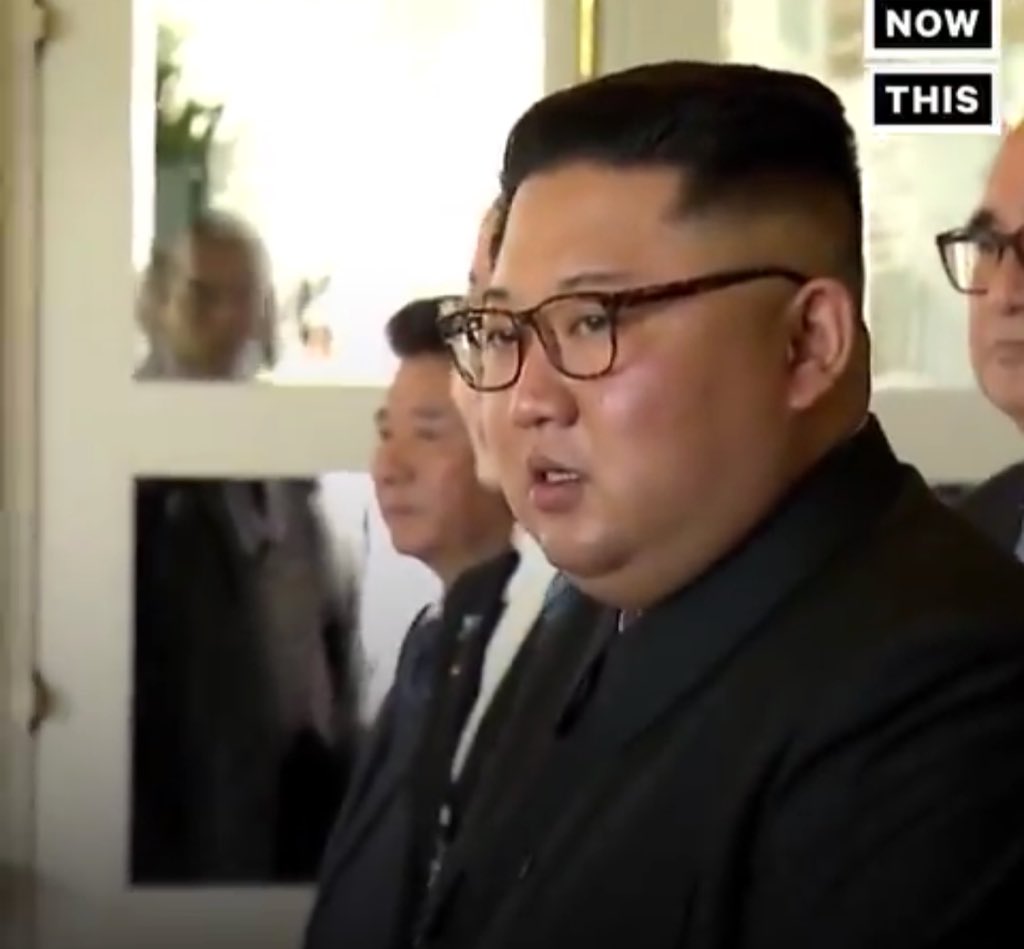 you're fucked.
---
You may also like