---
Kirk Herbstreit is my favorite college football analyst for many reasons. The main reason is that he has a tremendous amount of knowledge of college football, and a ton of experience covering the sport. Knowledgable analysts are hard to come by these days, which gives me extra respect for Herbie. However, what stands out to me is his love for Penn State as an alumni of Ohio State (S/O to @PSUBarstool for the graphic). It's truly hilarious, and I have no idea how he came to like Penn State so much.
You have other guys like Desmond Howard who are always picking Michigan in every game every year, and then Kirk, who's extremely unbiased. Don't get me wrong, I respect Desmond Howard a ton also. If you went to Michigan, you should be picking Michigan every game. It's part of the fun of college football. It amazes me that Kirk is able to unbiasedly pick games because to be honest I'm not sure if I'll ever pick against Penn State in a game ever again for the rest of my life. Can I see myself loving Ohio State in the future as much as Kirk loves Penn State? Definitely not.
Why do I bring all this up right now? Well Kirk Herbstreit came out with his annual 2018 picks on ESPN.com. It's a great article, and I highly suggest everyone read it. Let me point out what caught my attention though…
Per Kirk Herbstreit:
"Most exciting player" – Trace McSorely, QB, Penn State
"Most unselfish player" – Tommy Stevens, QB, Penn State
"Ultimate Herbie" – Trace McSorely, QB, Penn State
"Games I'm Most Looking Forward To" – Penn State vs. Ohio State
"Best Atmosphere" – Penn State White Out
"Best Student Sections" – Penn State
"Best-Looking Field" – Beaver Stadium, Penn State
"Best Freshmen" – Justin Shorter, WR, Penn State
"College Football Playoff" – Alabama, Clemson, Penn State, Washington
"Big Ten" – Penn State over Wisconsin
Our view from the booth last night as both teams take the field. pic.twitter.com/Q83nQQ8GtP

— Kirk Herbstreit (@KirkHerbstreit) October 22, 2017
What a scene last night at Penn State!!!!! pic.twitter.com/8TF6RMA6QQ

— Kirk Herbstreit (@KirkHerbstreit) October 22, 2017
Wow… That's all I have to say. That is a LOT of Penn State for one article. Yes, there were other players/schools listed for those categories. You absolutely got to love it as a Penn State fan, especially coming from an Ohio State alum. I'm looking forward to watching Kirk Herbstreit pick Penn State to beat Ohio State on September 29th on College Gameday on Old Main Lawn at Penn State.
Thanks For The Love Herbie,
Penn State Fans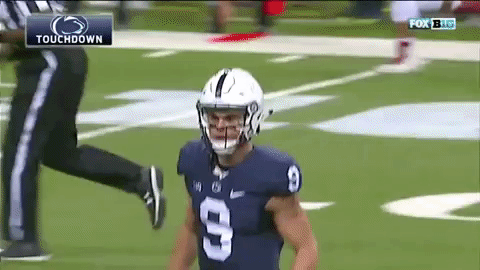 Here's a link to the full Kirk Herbstreit College Football Picks Article:
http://www.espn.com/college-football/story/_/id/24431000/bryce-love-nick-bosa-highlight-kirk-herbstre-2018-season-herbies
---
You may also like