---
Last night did not go as well as Week One for our Jetropolitans. We are walking away from week two with way more questions than answers. It all started with the Jets heading to Richmond, VA for a joint practice week with the Redskins. First of all, I think these joint practices are weird as shit. As a former (high school) athlete myself I just find it odd to be practicing with a team that you're playing against that weekend. Mostly because it will almost always end up like this:
Just got sent this video from a fan who recorded one of the many #Redskins fight with Jets. It really was unfortunate and will be interesting to see how Coach Gruden and Bowles handle things over next two days. pic.twitter.com/y93npnr0Kc

— Lake Lewis Jr (@LakeLewis) August 12, 2018
No shit these guys are going to fight all week. However, one good thing that came out of this practice week is the praise that came down on Sammy Six Points.
#Redskins CB Josh Norman on Sam Darnold – "This little kid does not make mistakes. He's really accurate. You get rookies in here and try to mess with them and bait them a little bit… and he's not having it… It's crazy to see for such an early age. He's impressed me."

— NYJets Report (@nyjreport) August 14, 2018
Josh Norman is one of the best in the league at getting in quarterbacks' heads. If Sam made it through a week of practicing against Norman without making any big mistakes then I like him against any defense in the league.
Unfortunately the game did not go as well as it could've.
Halfway to games that count. #NYJvsWAS pic.twitter.com/0dN2tKHUmg

— New York Jets (@nyjets) August 17, 2018
The big positive takeaway was that the defense played really well again. Guys with big question marks like Buster Skrine played well and they held the Skins to field goals in big situations, which is what Jets defenses of old were great at. The special teams looked way better than last week. Andre Roberts and Lucky Whitehead both did a good job returning the ball. Lachlan was bombing it #ForTheBrand, and newly signed kicker Taylor Bertolet was 2/2.
Where things get really interesting is the QB play. At this point it's clear that Josh McCown is a QB coach that wears a helmet at practice. But the competition between Teddy Bridgewater and Sam Darnold is very unclear. They both played really well Week One, but Sam did enough to get the start last night. Sam did not play as well last night as he did Week One, but I still liked what he did. He only had one turnover, which was an interception off a deflected ball on a fourth down play. That does not concern me at all. He continued to be very poised and made a lot of smart throws. If anything, I want to see Sam take more risks in these preseason games and really try to air it out a little bit. Teddy came in for the second half and played a little bit better than Sam. He led the Jets only touchdown drive of the game, but it also came against the 2nd/3rd string defenders.
Where I stand right now is that we should try to trade Teddy for a couple draft picks. If we can't get that for him right now then I think he should be the starter moving forward, including week one of the regular season, until we can boost his value more. The more time Sam gets to develop the better, it's not like this is a Super Bowl contention type of year anyways. Overall, I'm pretty happy with the Jets again after Week Two. A small step back, but it's so hard to tell with these preseason games.
We're on to the Metlife Bowl this weekend against the Giants. My biggest thing going into that game is whether or not Saquon returns and how the defense handles him if he does.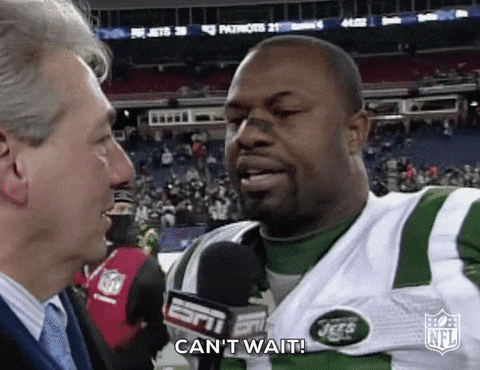 SAMMY & THE JETS TEES… GET 'EM WHILE YOU CAN!
---
You may also like